Tesla, the infant firm that single-handedly changed the future of electric mobility, has finally landed on Indian shores. After a lot of deliberation, the Palo Alto-based firm has finally come to India and registered itself as Tesla India Motors and Energy Private Limited. We are excited and here's why!
Musk is in the house!
Tesla has been on the forefront of the electrification drive across the globe and has established itself as a technology focused automotive brand thereby starting an entirely new generation of car companies following suit. Tesla's brand image has started to command huge awe with exceptional brand value perception even after being live on the market for very few years.
Elon Musk-led Tesla has finally come through and registered Tesla's India division in Bangalore as Tesla India Motors and Energy Private Limited.
Indians have long been waiting for Tesla and there always has been a constant rush of tweets from Indians directed at @elonmusk or @Tesla inviting them to come and do business here. One such recent post saw Elon Musk reply saying, "Next year for sure" and clearly he is keeping his word.
Nitin Gadkari, current Lok Sabha member and Minister for Road Transport & Highways and the Minister of Micro, Small and Medium Enterprises in the Government of India, confirmed prospects for Tesla in India in December. He added that Tesla will commence sales in 2021 and consider assembly and manufacturing based on market response.
Tesla has entered the Indian market under the "Subsidiary of Foreign Company" bracket for now. Tesla has named 3 primary heads for now — Vaibhav Taneja, Venkatrangam Sreeram, and David Jon Feinstein. Taneja, currently the Chief Accounting Officer at Tesla Motors, will soon become a top boss in Tesla's India chapter. Sreeram, a Bengaluru entrepreneur, who created two automotive startups — Xenon Automotive and Cleartquote Technologies in India. Feinstein is currently a top executive at Tesla.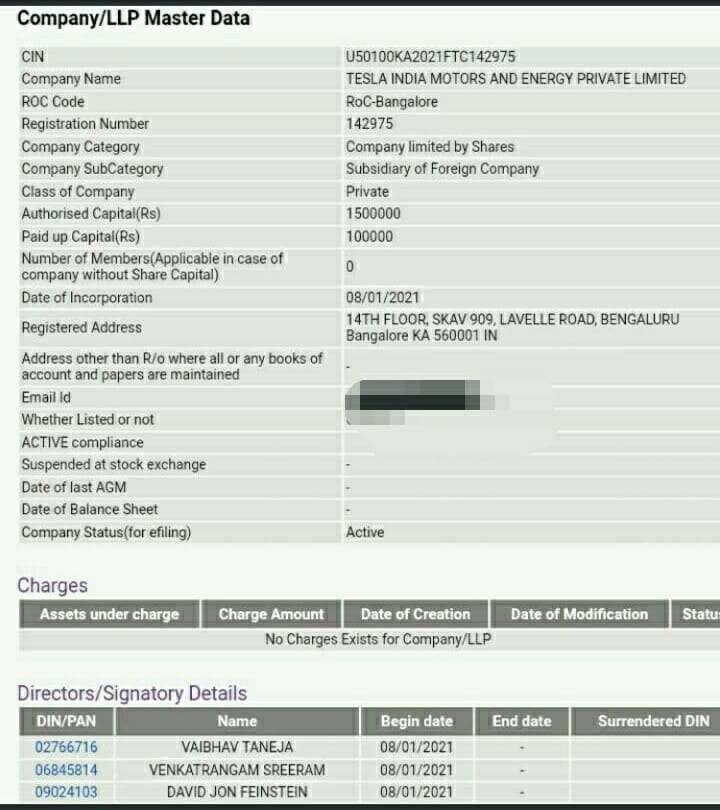 Tesla has initially installed an operating capital of Rs. 15 lakhs and a total paid up capital of Rs. 1 lakh. Tesla is currently in talks with five state governments discussing opportunities of doing business. The five states are — Maharashtra, Gujarat, Andhra Pradesh, Karnataka, and Tamil Nadu.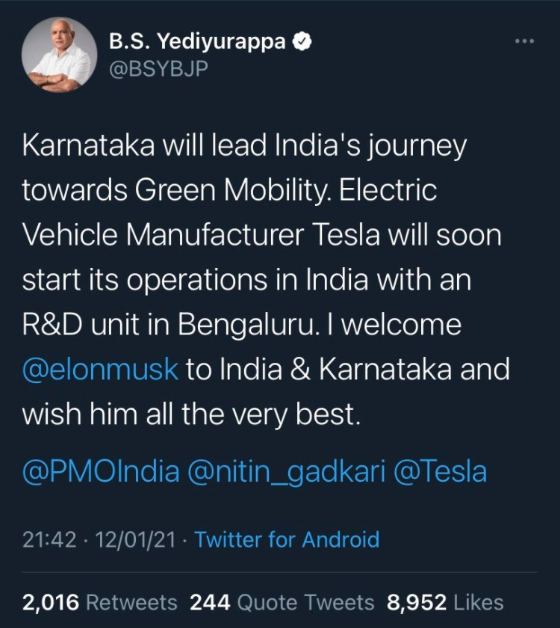 Why we want Tesla?
Tesla's entry into the Indian market has long been overdue and at this point, the interest remains more sentimental than the actual business that Tesla will end up doing in India. As the price point at which Tesla operates even for its cheapest product, the Tesla Model 3, is fairly above the spending grade of most Indian car buyers.
Having said this, Tesla's bet on the Indian market will be more than what just pure numbers for the car manufacturer alone. Along with cars, Tesla will bring in its other services and products to facilitate the cars it sells. Charging ecosystem like the Tesla supercharger stations and home charging kits will play an important role for the company and this is where the 'Energy' component of the company comes into the picture.
What Tesla will bring along with its products will also be an international brand which has spearheaded an electric revolution in the auto industry and has opened the doors to the future of transportation. The company's brand perception will help Indian car buyers understand and accept the new technology of electric cars. Long term competition from Tesla will push for more electrified products from traditional car manufacturers thereby improving the entire industry in multiple aspects.
Also read: New Tesla Patent: An Electromagnetic Windshield Wiper
Why it won't be a cakewalk for Tesla?
While Tesla will surely command huge respect and awe in India few hurdles still need to be ironed out for it to do well in Indian automotive industry, one of the toughest nuts to crack in the entire world.
India remains a delicate market with its customers being fairly difficult to convince which in fact has led multiple global giants to quit the Indian automotive industry altogether. One of the biggest weak links for Tesla will be the price. Indian customers are highly sensitive to price and getting it right will be one of the first boxes for Tesla to check out if it wants to survive in the market.
India also puts forward high demands for car companies in terms of engineering as India's road conditions, variety of climates and diversity of people require brands to develop and different products altogether. Adapting Tesla's current line up of products to match upto the requirements will need time and continuous effort making it more than an overnight success for Tesla.
All in all, Tesla's arrival at India's automotive party will bring a bang and we're surely in for the fun.