Overwatch has joined the growing list of games to add NVIDIA Reflex support, which helps in reducing system latency and improving game performance subtly. This is among other updates to the technology, which will soon be available in even more games with support for more hardware.
NVIDIA claims "up to 50%" reduction in system latency in Overwatch with the update that is available later today. You can learn more about Reflex's inclusion in Overwatch here.

Reflex Support For Rust and Ghostrunner Coming Soon
NVIDIA also announced two new games – Rust and Ghostrunner will be getting NVIDIA Reflex latency reducing technology soon.
"In Rust everyone wants you dead, reduced latency with Reflex will make sure you're staying ahead of the competition. It's as simple as enabling Reflex through the options menu." – Helk, Rust's Project Lead, Designer & Programmer.
With the new update, Ghostrunner will be one of the only games that include all of NVIDIA's optimizations, including DLSS and RTX support. This should make an already enjoyable game even more responsive with Reflex.
Enhanced 'Boost' Mode For CPU-Bound Instances In Fortnite and Valorant
NVIDIA Reflex itself is also getting an update with 'Boost Mode'. Here's what the company said about the new addition.
With a new NVIDIA Reflex SDK update, Boost Mode further reduces system latency in certain CPU-bound scenarios where the render submission thread is the limiting factor. These types of CPU bound scenarios can occur when there are many objects to render on the screen at once.
NVIDIA claims that gamers should see an additional 16% latency reduction with Boost mode.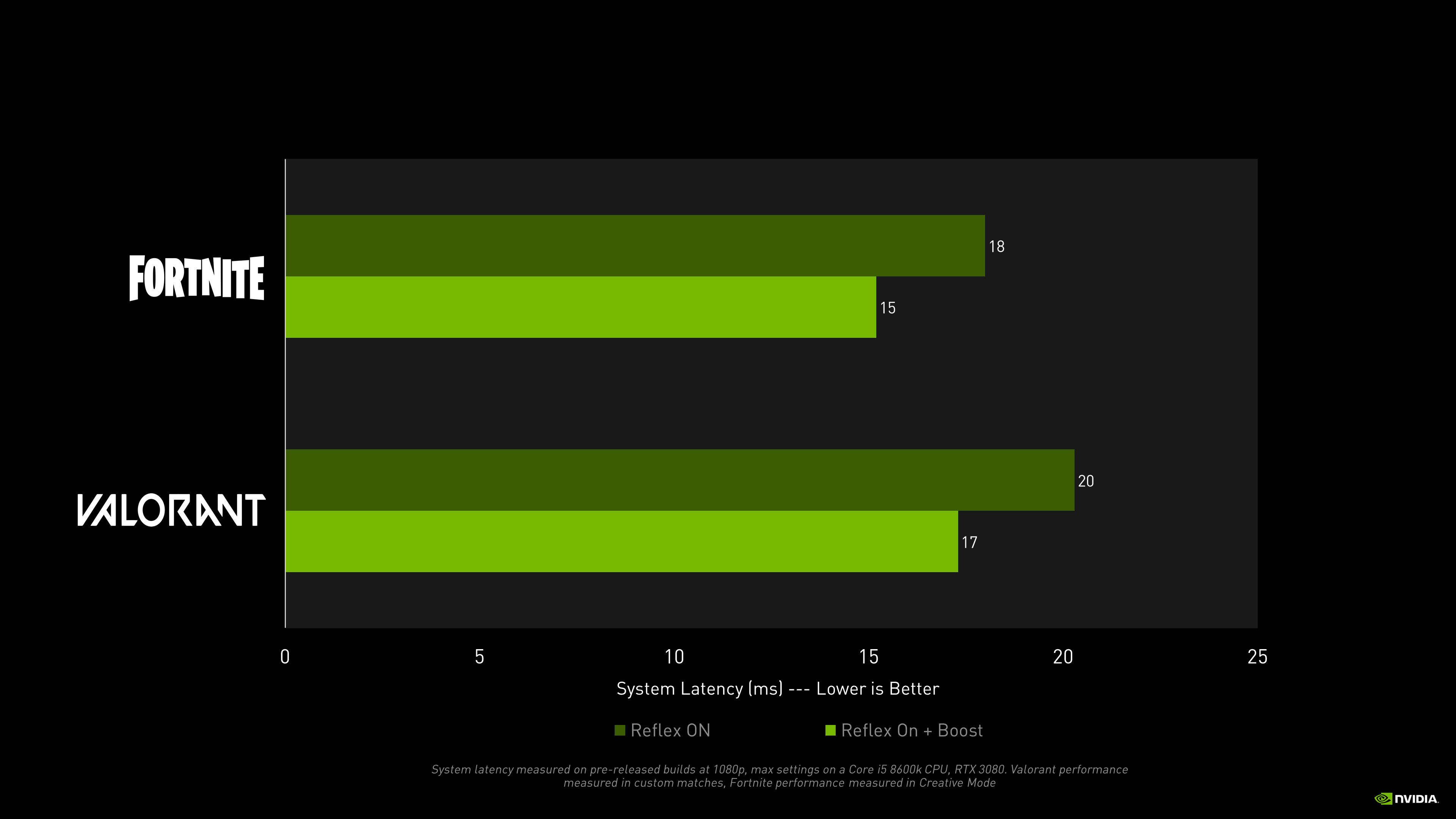 New Reflex Latency Analyzer Features Available Now In GeForce Experience
NVIDIA has also updated its Latency Analyzer, currently available as an experimental feature in GeForce Experience. You can now save monitoring data in a handy CSV file, as well as customise how many samples you may want to include. You can also check if you are GPU or CPU bound by using the new performance overlay.