Microsoft, generally, holds its annual hardware event in the month of October — to announce new Surface products. But this around, they went ahead and announced additions to their Surface family via a press release. Even though we aren't getting the same amount of hardware as last year, the two new products — Surface Laptop Go and Surface Pro X — offer some great features at a very compelling price. Here's everything Microsoft has announced today.
Microsoft Surface Laptop Go: Ideal for Students?
Microsoft Surface Laptop Go is the latest device to join Microsoft's 'Go' family. The device features the same design as of the Surface Laptop 3 at almost half the price. It's got 12.45-inch PixelSense LCD Display with a resolution of 1536 x 1024. Just like the Surface Laptop 3, it retains a weird aspect ratio of 3:2.
On the design front, it boasts an aluminium build, with a polycarbonate keyboard deck. Bezels are pretty small on three sides of the display, with a larger chin at the bottom. There's also a fingerprint sensor built right into the power button of the laptop, but weirdly, the starting $549 variant doesn't ship with the fingerprint sensor (probably to save some cost). None of the variants supports Windows Hello facial recognition.
Powering this laptop is a 10th-gen Intel Core i5 processor (i5-1035G1 Ice Lake), that offers a base clock speed of 1.2 GHz and boost clock of 3.6GHz. It is coupled with with integrated Iris Plus graphics.
Depending upon the variant you choose, you either get 4GB or 8GB of RAM. Internal storage is one area where Microsoft seems to have compromised, with the base $549 variant having only 64GB of eMMC storage. eMMC storage is generally found on mobile devices, while laptops and PCs come with either HDD or SSD type of storage. You will find SSD type-storage on the 8GB RAM models.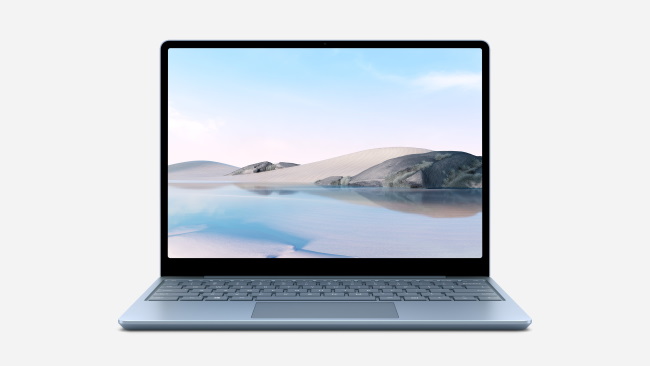 Microsoft claims up to 13 hours of battery life on a single charge on this laptop. The laptop supports USB Type-C charging and comes with 65W fast charging capabilities. 
Microsoft Surface Laptop Go: Pricing and Availablity
The Surface Laptop Go will be available in three colours, namely — Platinum, Ice Blue, and Sandstone. The base variant with 4GB of RAM and 64GB of eMMC storage has been priced at $549, with the mid-tier variant (8GB RAM and 128GB SSD storage) priced at $699 and, finally, the top-end model priced at $899.
All of these models will be available starting 13th October in select countries only — the US, Canada, Japan, Australia, and New Zealand.
Microsoft has confirmed to Beebom, that is planning to launch this model in India sometime next year (March-end/ April starting).
Also Read: Microsoft File Recovery Tool is Here to Recover Deleted Files!
Microsoft Surface Pro X with SQ2
The original Surface Pro X was a pretty big deal for Microsoft when they suddenly announced their new ARM-based laptop with their own custom SQ1 chip. The new Surface Pro X is pretty much like the old one, with the only physical difference of it being available in a new colour — Platinum.
It packs a new SQ2 chip that features a more powerful Adreno 690 GPU. Microsoft says the SQ2 chip isn't a drastic upgrade from the SQ1, and there seems to be only one minor difference of performance between the two chips.
After announcing that Windows 10 on an ARM is getting 64-bit emulation support next year, Microsoft is looking to push forward its series of ARM-based Surface devices. The original Pro X was one of the most futuristic devices from Microsoft but was also plagued with the lack of apps and it not being able to run x64 applications. It seems like Microsoft has finally sorted out this problem.
The new Surface Pro X starts at $1,499 and comes with 16GB of RAM and 256GB of SSD storage. There's also a model priced at $1,799 that bundles 16GB of RAM and half a TB of storage.
Microsoft is still retaining it's original Surface Pro X with SQ1 chip, which now starts at $999 and comes with 8GB RAM and 128GB of storage.