With just 2 days until release, Cyberpunk 2077 is nearly upon us. Reviews for the PC version of the game are out, and we've now got an idea for what to expect in the performance department. Thanks to Tom's Hardware, we can now see how the game will perform on gaming PCs, and it's shaping up to be quite disappointing for budget-gamers.
Cyberpunk 2077 Early PC Benchmarks
Tom's Hardware tested the game on various GPUs with an Intel Core i7-9900K, which is still a great CPU for gaming. Let's look into the 1080p benchmarks. The tests were carried on the following GPUs, at 1080p 'Medium' preset, so in theory, we'll be seeing CPU bottlenecked frame rates: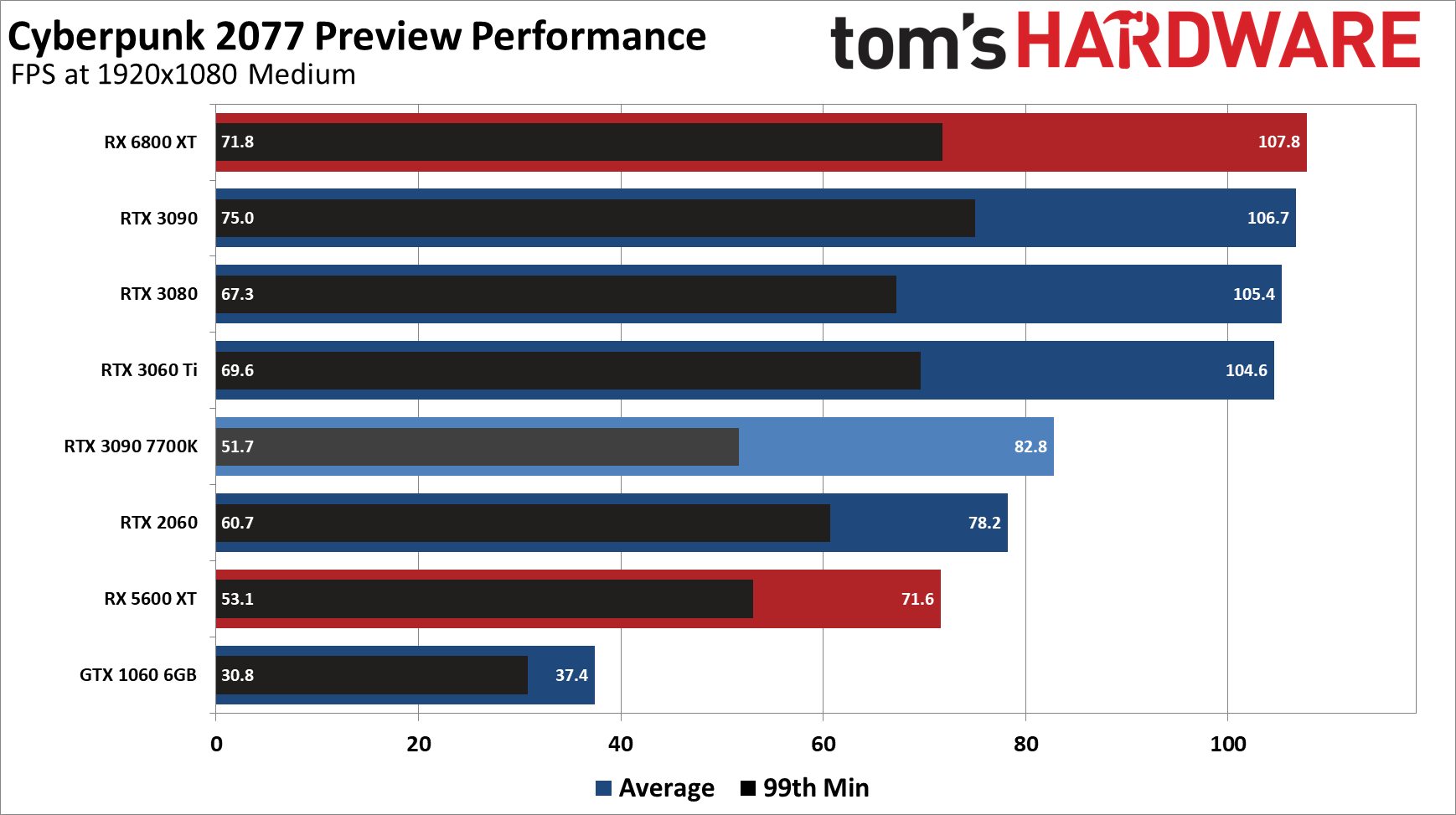 If any of these numbers are to be believed, then it looks like Cyberpunk 2077 isn't messing around with its graphics settings. All the results above the RTX 2060 are expected performance, but at Ultra settings on most games. The fact that Cyberpunk is outputting these results at only its 'Medium' preset are a little shocking. Below the RTX 2060 though is where the results seem extraordinarily shocking. We know that the game is fundamentally built for the PS4/Xbox One generation, but looking at the GTX 1060's performance paints a different picture. We do have to note that the review copies of Cyberpunk 2077 come with Denuvo DRM built-in, which will be removed at launch. So aside from the general early drivers/game patches, Denuvo is also a big factor in the performance results.
With that said, the numbers we're seeing for the newly released RTX 3060 Ti aren't that bad, but we'll have to wait and see how the game's visual settings scale up. It could be that CDPR is using higher than average level of detail settings for its presets, so "Medium" might be the equivalent of other games' "High". For reference, here's what we got on our RTX 3060 Ti for recently released games at 1080p:
| | |
| --- | --- |
| | RTX 3060 Ti Performance at 1080p |
| Assassin's Creed Valhalla | 75 |
| Watch Dogs Legion | 100 |
| The Witcher 3 | 100 |
| Horizon Zero Dawn | 95 |
For more information about the RTX 3060 Ti, read our full review.
4K performance at 'Medium' settings are a bit more in line with what we expect, if you take AMD out of the equation.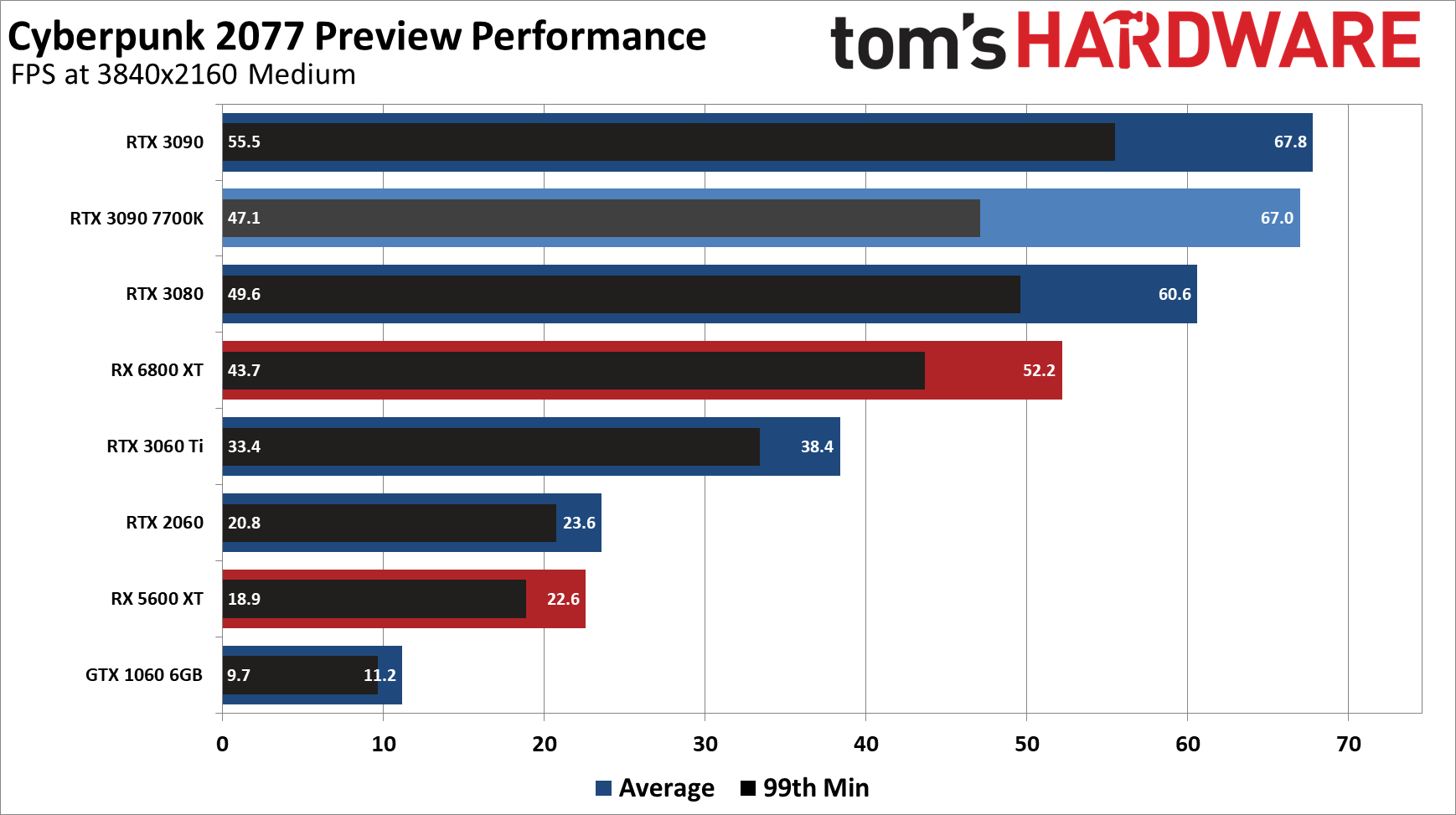 Cyberpunk 2077 PC System Requirements Were Targeting Just Above 30 FPS, Not 60
Earlier in November CDPR released the official PC system requirements, and upon examining the pre-release PC performance it looks like those recommendations were for a modest "above 30 FPS" experience.
| | | | | | | | |
| --- | --- | --- | --- | --- | --- | --- | --- |
| Component | Minimum (1080p) | Recommended (1080p) | High (1440p) | Ultra (4K) | RT Minimum (1080p) | RT High (1440p) | RT Ultra (4K) |
| Graphics Preset | Low | High | Ultra | Ultra | RT Medium | RT Ultra | RT Ultra |
| CPU | Intel Core i5-3570K OR AMD FX-8310 | Intel Core i7-4790 OR AMD Ryzen 3 3200G | Intel Core i7-4790 OR AMD Ryzen 3 3200G | Intel Core i7-4790 OR AMD Ryzen 5 3600 | Intel Core i7-4790 OR AMD Ryzen 5 3200G | Intel Core i7-6700 OR AMD Ryzen 5 3600 | Intel Core i7-6700 OR AMD Ryzen 5 3600 |
| RAM | 8 GB | 12 GB | 12 GB | 16 GB | 16 GB | 16 GB | 16 GB |
| Graphics Card | NVIDIA GTX 780 OR AMD Radeon RX 470 | NVIDIA GTX 1060 6 GB/ 1660 Super OR AMD RX 590 | NVIDIA RTX 2060 OR AMD RX 5700 XT | NVIDIA RTX 2080 Super / RTX 3070 OR AMD RX 6800 XT | NVIDIA RTX 2060 | NVIDIA RTX 3070 | NVIDIA RTX 3080 |
| VRAM | 3 GB | 6 GB | 6 GB | 8 GB | 6 GB | 8 GB | 10 GB |
| Storage | 70 GB HDD | 70 GB SSD | 70 GB SSD | 70 GB SSD | 70 GB SSD | 70 GB SSD | 70 GB SSD |
Cyberpunk 2077 Official PC System Requirements
Tom's Hardware suggests to play the game on slightly more beefed up systems if you're expecting the performance that CDPR is offering.
Cyberpunk 2077 Early Ray Tracing and DLSS Analysis
Here's how performance looks with DLSS enabled, in both rasterized and ray-traced conditions at 4K Ultra settings: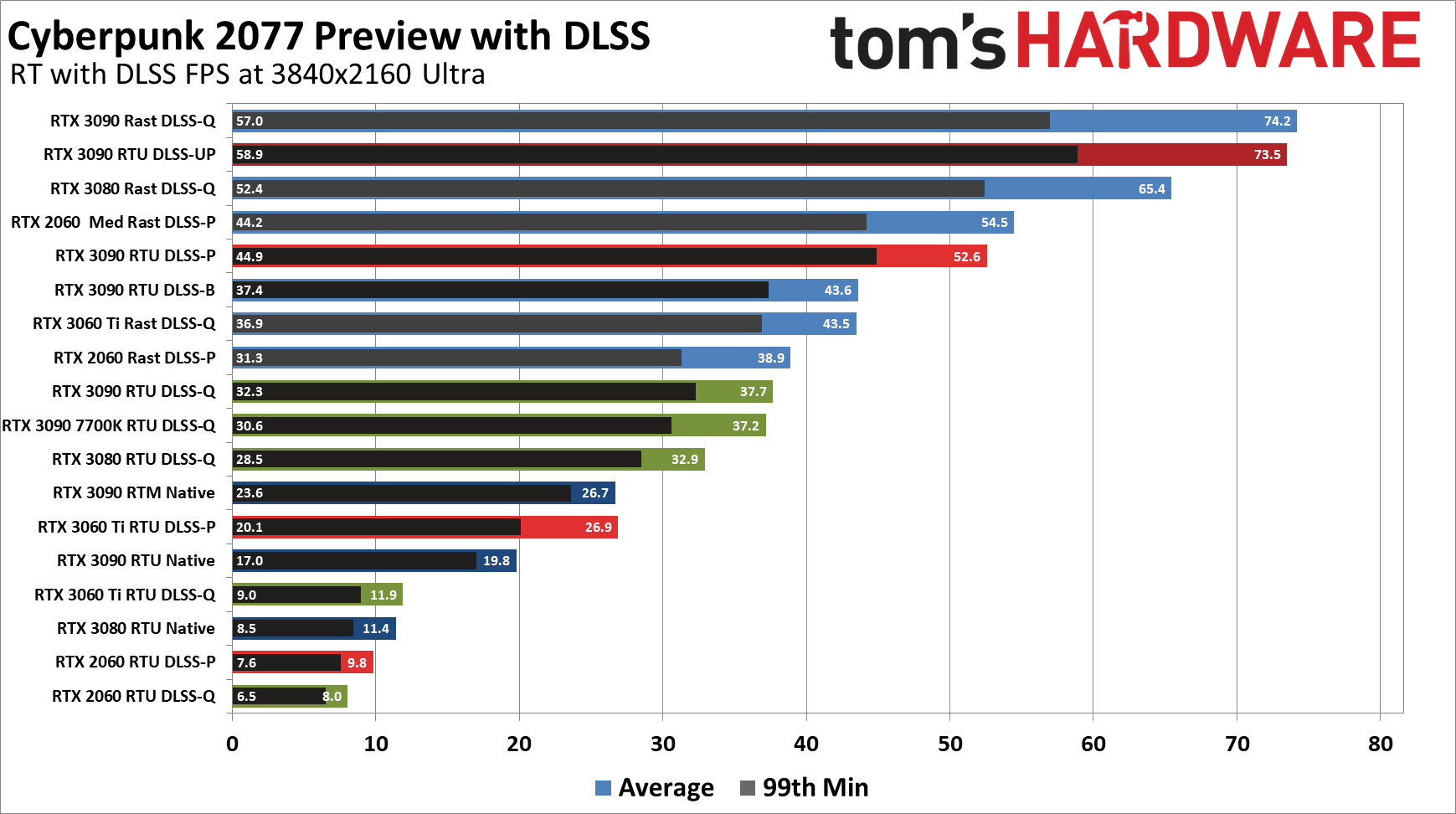 Whoops! Even with NVIDIA's performance (and image) boosting DLSS feature, Cyberpunk 2077 barely manages to go above 60 FPS with the RTX 3080. The performance chart here comprises of both rasterization at medium, at ultra and then with ray tracing at medium, and ultra settings. Take a closer look at it to get an idea of what to expect on your graphics card.
Cyberpunk 2077 Performance on AMD Radeon Graphics Cards Isn't Looking Good
We knew that the game won't support ray tracing on AMD cards at launch, We suspect that it might be because CDPR is still working on the proper next-gen console version, which is based on the same architecture as the Radeon RX 6000 cards released recently on PC. It could be that CD Projekt RED wants to offer an optimal experience on AMD hardware, and that might explain the performance on those cards right now regarding ray tracing.
Tom's Hardware notes that the preview build didn't lock off ray tracing on AMD, but that the game itself would crash with it turned on in those GPUs. With AMD's first-gen ray tracing performance not that good in other games, right now the game will perform significantly better on NVIDIA hardware. That is of course if you don't care about ray tracing. But then again, RT support isn't enough for AMD to stay competitive, and not offering great performance on the year's biggest game is a letdown.
"Currently, owners of AMD's new RX 6800 series graphics cards are locked out of ray tracing, but support will come post-launch. The initial version of the game actually let us try to enable ray tracing on AMD's cards, but enabling RT reflections caused an immediate crash. The other RT effects didn't necessarily work properly, either. Hopefully, this gets addressed quickly post-launch." – Jarred Walton, Tom's Hardware.
At this point, we know that the game is going to get a ton of patches, both directly from CDPR as well as in the form of driver optimization by NVIDIA and AMD. We'll be waiting for the retail release as well as the public driver updates before we test the game on our own. It's certainly a tricky situation, which might point towards a not-so-great experience for the millions of people who've pre-ordered the game on PC, beating console sales in certain markets like India!
With all that said, we're still yet to see actual footage from the console versions, and if the PC performance is anything to go by, base PS4 and Xbox One consoles will have some really heavy lifting to do.