After the launch of the Ryzen 3000 desktop lineup, we're all waiting on the mobile chips based on the 7nm Zen 2 design. However, it seems like we'll have to be patient for the time being as AMD is looking to release the low-power U variants of the Picasso APU parts. The mobile-based Ryzen 5 3550H and the Ryzen 7 3750H are already available, but those are meant for gaming laptops with a more relaxed TDP envelope of 35W. The U suffix denotes the ultra-low power 15W SKUs that will be featured in smaller and more efficient portable PCs. On that note, the Ryzen 5 3550U and the Ryzen 7 3750U have been spotted on Geekbench and 3DMark, respectively.
You are looking at a Picasso based Ryzen 5 3550U running at a base and boost clock of 2.10GHz and 3.69GHz, respectively. Like the H variants, it's also a quad-core chip with SMT, packing 4MB of shared L3 cache and 512KB of L2 per core. Geekbench recognizes Picasso APUs as Raven Ridge so don't worry about the codename as it's quite misleading.
The 3550U is accompanied by a Vega 9 iGPU packing 9 Compute Units with a maximum boost clock of 1.30GHz. One can be sure of one thing, the Intel Ice Lake based laptops featuring the Gen11 iGPU will be much faster and efficient compared to Picasso as early benchmarks have already indicated that they'll be vastly superior to lower-end Vega parts like this one.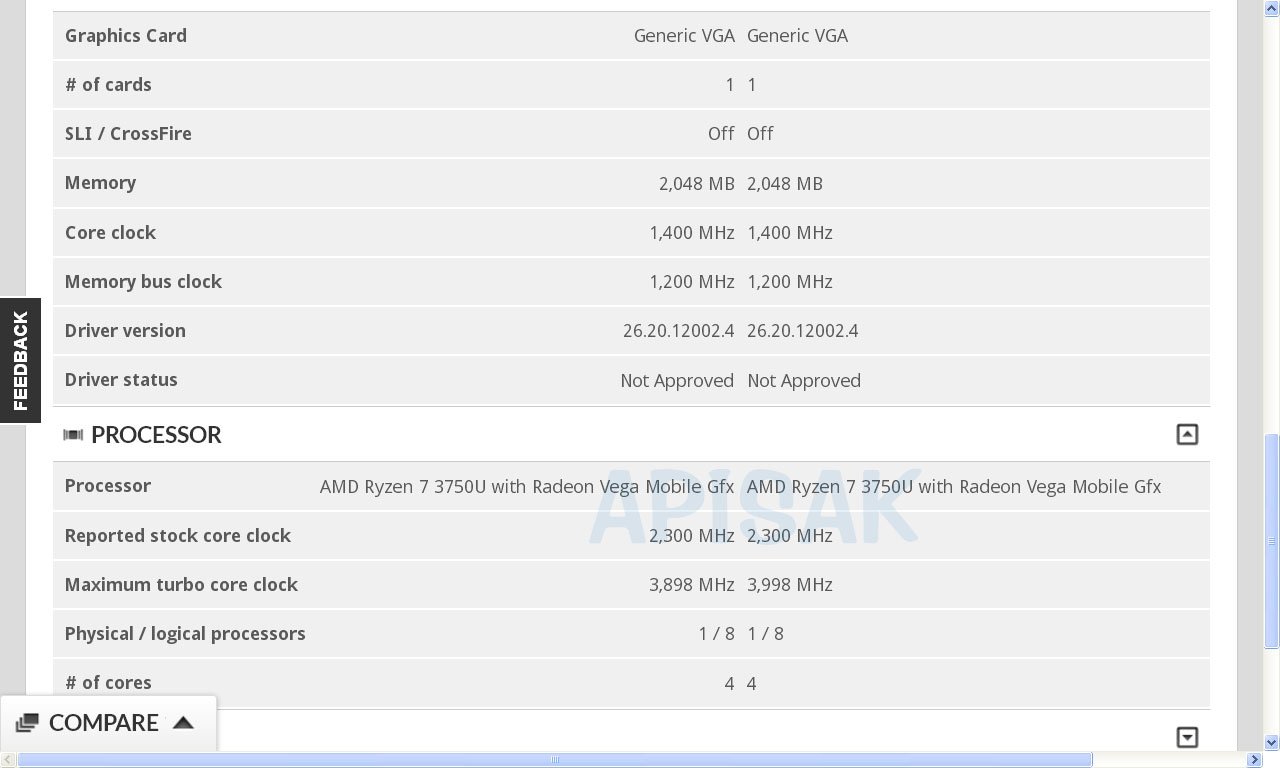 The Ryzen 7 3750U has also been confirmed, although, it was spotted on 3DMark and not Geekbench. While this gives us the CPU specs, it doesn't tell us the number Compute Units available to the Vega GPU. Going by past experience, we can expect a Vega 11 or 10 for this SKU with slightly higher clocks. The rest of the specs are identical to the Ryzen 5.
We're honestly more interested in seeing how the 7nm mobile chips are going to look like. Picasso did bring some really competitive gaming laptops to the market, they're still not quite on par with Intel's top-end offerings. The Zen 2 parts should change that. From the look of things, it appears that they won't be hitting retail before 2020, so for now, all eyes will be on Intel's 10nm Ice Lake chips.
Read more: